The Professional History of Tri-County Band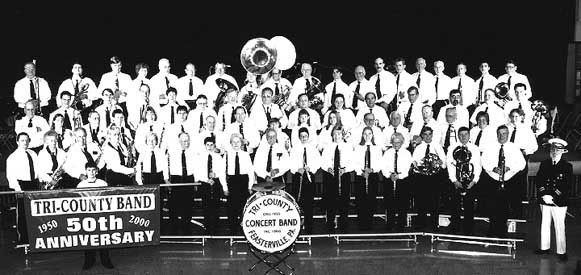 On June 20, 1950, ten musicians gathered at the fire house in Feasterville, Pennsylvania and the area's most renowned and best-loved musical organization was born. Since that first rehearsal, the Tri-County Band has delighted thousands throughout the Delaware Valley and New Jersey. Incorporated in 1960, the Tri-County Band of Feasterville continues to grow in size and scope and today boasts a membership of more than 50 musicians from all walks of life.
The Tri-County Band presents approximately Twenty-five performances each year and is continually in demand to provide music for municipal celebrations and parades. Local residents look forward to the summer concerts that have become an established annual event in numerous town parks. In addition to its civic activities, the band is a regularly featured attraction at many retirement homes throughout the area.
The band rehearses throughout the year in its own band hall in Feasterville. It boasts one of the largest band libraries in the area and owns a van for transporting instruments and equipment to and from engagements. Financial backing in the form of a township grant, as well as that of patrons and sponsors who attend concerts and contribute to the band, help it to grow and ensure that it will continue to meet the needs of the community. The band is indeed fortunate to have such a broad base of community support.
The day to day running operations of the band are administered by a band council of duly-elected officers and council members as set fourth in the Tri-County Band Constitution which originated with the founding members of the band and was later revised in accordance with its own provisions. The musical operations of the band are overseen by the band's musical director as prescribed by the same Constitution.
As a non-profit community musical organization, the Tri-County Band welcomes both amateur and professional musicians. Members enjoy the companionship of others who share their love of good music, and are provided with the best possible outlet for their musical talents.

Rehearsals are held from 7:30 to 9:30 pm every Monday evening at the Tri-County Band rehearsal hall, located at 403 Elmwood Avenue in Feasterville. Anyone interested in sitting in on a rehearsal or engaging the band for a performance can contact us there or via our contact tab. Visiting musicians are always welcome to join us on Monday evening.